Rocky Mountain Bighorn Sheep Hunts
7D Ranch Outfitting guides Big Horn Sheep in WY Sheep areas 1-5.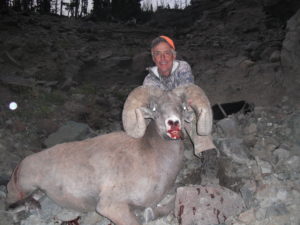 Sheep hunts are our passion and specialty. To date, my guides and I have gone 156 for 157 on our Wyoming sheep hunts. We guide sheep hunters in WY areas 1-5.
We have spent a lot of time in all five areas. We know the country and sheep well for the places we take our hunters. This gives us the confidence to provide a quality hunt in any of the five areas. We strive to do our very best for our clients.
Our goal is that every hunter we guide is proud of the ram that they harvest.
Many of our sheep hunts consist of us using our mountain savvy horses and mules to pack into the beautiful backcountry of Northwest Wyoming. We provide all of the gear for our hunters minus their own personal effects and gear.
We believe in having a comfortable camp and a fun backcountry experience. Our number one goal is that our hunter harvests a ram he/she is proud of, but we also want to provide a good time and a great memory.
Late Season Rocky Mountain Elk Hunts
7D Ranch Outfitting guides bull elk hunts in WY Elk Areas 58 and 54.
Area 58 Elk hunts are done only on private, State, and BLM lands.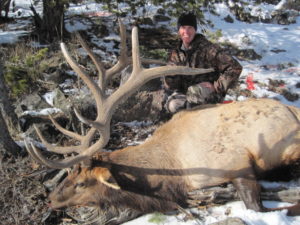 The limited quota trophy bull (any elk) licenses are difficult to draw; however, they offer hunters a great opportunity at harvesting a trophy caliber bull elk.
We take this opportunity very seriously and we put forth our best effort to give our hunters a professional and fun hunting experience.
We have specialized in these late season bull hunts for many years and have a tremendous amount of experience with these hunts. We want our hunters to come away from their hunt with a beautiful, mature bull elk and a great life memory.
If you are looking for a late season elk hunt we would be honored to take you elk hunting.
7D Ranch Outfitting guides deer hunters in WY areas 105,106, & 109.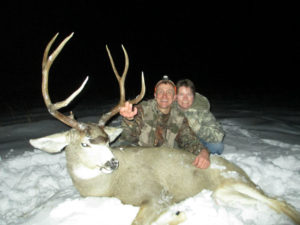 The deer hunting that we specialize in is horseback, spot and stalk hunting for mountain mule deer. November deer hunts are drawn on a limited quota license (area 105 type 1).
The 105 type 1 tag is hard to draw but when drawn offers an exceptional deer hunt.
If you are fortunate to draw one of these late season deer licenses and choose to go with 7D Ranch Outfitting you will not regret it. Look to have a good time and get an opportunity at a nice mature mule deer buck.
We stage these hunts out of the 7D Ranch or Cody, WY. Like all of our hunts, we focus on providing a custom experience and having fun while we are experiencing the backcountry of Northwest Wyoming.
7D Ranch Outfitting guides Mountain Goats in Wyoming Goat Areas 1 and 3.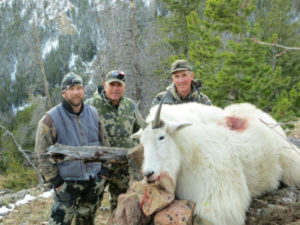 We have a lot of experience guiding Mountain Goats in Wyoming both in Areas 1 and 3. To date, our success has been 100% with all our goat hunters. We typically day hunt from a very comfortable lodge, but we also spike camp and have a first rate camp.
We will gladly do both depending on what our client wants and where we are finding the Billy that we want to harvest.
These goat hunts are an incredible experience and a hunter is able to see a large number of different goats and some amazing country. You can never guarantee success in hunting, but this hunt has a very high potential of harvest.
We will do our best to provide you with a fun time and you will get the opportunity to watch mountain goats in the wild. We would be honored to help you harvest a nice Wyoming Rocky Mountain Goat.